24/09/12 09:14
This is kind of a dippy article in the New York Times (which almost only publishes remarkably dippy articles in the "Style" section), but it might be helpful for our purposes.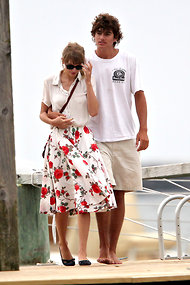 Heedlessly Romantic

By HENRY ALFORD

Published: September 21, 2012

YOUNG love burns bright. But fast moves drop jaws. Consider the perturbations of
Taylor Swift
this summer.

Just weeks after the 22-year-old singer was first spotted with her 18-year-old boyfriend, Conor Kennedy — a student at Deerfield Academy in Massachusetts and a son of
Robert F. Kennedy Jr.
— Ms. Swift looked at houses for sale near the Kennedy compound in Hyannis Port, Mass. (Some publications reported that she plunked down $4.9 million for one across the street from Mr. Kennedy's grandmother Ethel Kennedy.)
Then came the news that the two lovebirds crashed a Kennedy wedding at the Fairmont Copley Plaza in Boston. When Victoria Kennedy, the bride's mother, saw Ms. Swift at the ceremony, she introduced herself and, lest the singer upstage Ms. Kennedy's daughter, asked her politely to leave.
"It was like talking to a ghost," Ms. Kennedy told The Boston Herald. "She seemed to look right past me."
When the objects of our affections act in a manner that seems overeager or even presumptuous (or when we ourselves act that way), bells start to ring. Are these the pealing bells of a Swiss mountaintop village that's perpetually awash in a goldenly caramel light, or are these the ominous tollings of a hunchback pulling a rope?
The actions of courtship are particularly difficult to parse when viewed through the prism of etiquette. What strikes one person as lovely ("You bought my mother flowers!") strikes another as pushy ("You bought my mother flowers?"). Undoubtedly, a thoughtful, optimism-fueled gesture can, in the right context, make the heart throb, as if to signal the recent ingestion of much heavy cream.


[Article here.]